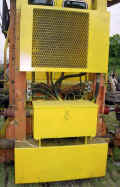 Need assistance with this site email the webmaster.
Prototype for Everything Department
It is not everyday that you get the chance to see some of the railway companies esoteric stock.
Every now and then though you get a chance to photograph something that you rarely see. In April I managed to photograph the Union Pacific's Lawn mower.
OK you say, boring...
Maybe, however when it is a mobile, crewed, rail travelling lawn mower things change.
These photographs were taken on a branch off the UPs mainline south of Austin Texas. I call it the Burleson road branch since it ends at Burleson Road in Austin Texas.
While this may not be correct, and Union Pacific may call it another name, the Burleson Branch it is to me.
Hope you enjoy these photographs. If you have any information to give to me drop me a line at UPLawnmower@7mm-heaven.org
This is a Lite_Site!
7mmHeaven.com is designed to download quickly to your browser.
For more information on the lite_site web design philosophy click here.

We're now on RailServe!
RailServe: The Internet Railroad Directory - Over 4,000 rail-related links, search engine, forum, ICQ List, and more!